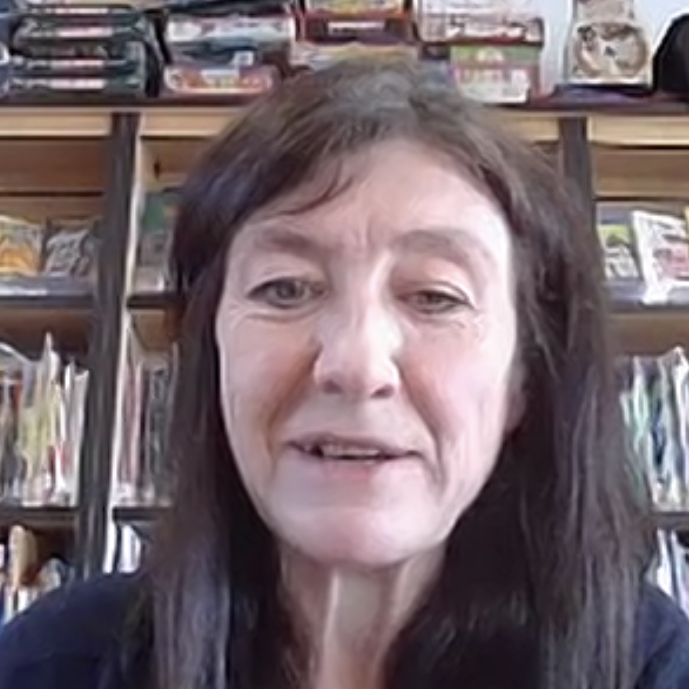 Eileen Armstrong
Even working as a librarian at a busy school can be a surprisingly lonely professional experience. Alongside career highlights here's how Eileen Armstrong, librarian at a large secondary school in Northumberland, uses SLS to save money and keep her two libraries stocked and up-to-date. Interview by Nicola Baird
"Look for every opportunity to show the contribution the library can make in school and get involved."

Eileen Armstrong
It's a hot August day between the A level and GSCE results and Eileen Armstrong, librarian at Cramlington Learning Village, is preparing for the new school term. "I'm in the school library – what we call the Knowledge Café – for our Y7 and Y8s that also doubles as a dining room," she says over Zoom trying to ignore the noise from two sets of workmen, tuned into two competing radio stations.
Cramlington is a new town, not far from Newcastle. "It has housing estates, a shopping centre, industrial estates and no book shop," says Eileen who is from the North East and has worked for 25 years at this secondary (although she initially joined when it was a High school when Northumberland ran three tiers of schools – Primary, Middle and High (for Y9 and above).
Her school has more than 2,000 students, with about 350 in every year group. However, the 2023-24 Year 7 cohort is bigger than normal so will see 400 students join.
It's busy: there are classes timetabled in the library every lesson plus before school, break/lunch activities and after-school clubs. The library issued almost 36,000 resources last year, up a third on the previous year.
"It seems like a different job every year working with new staff and with new groups of students coming through and there are always new challenges depending on current educational initiatives and policies, new school management and different school priorities," says Eileen. "Every time I've thought of leaving, something new has come up in school – setting up a new library from scratch, delivering research lessons, offering A level EPQ supervision, a Specialist Leader of Education role and a school rebuild with a new library to develop."
Reading agenda
Right from her early days at Cramlington Eileen has been the sole school librarian. That's why she's always tapped into professional networks. "I've been lucky that school senior management always been supportive of this and it's led to so many opportunities to work alongside, and learn from, some outstanding and inspirational people."
Highlights include the chance to judge the prestigious Yoto Carnegie/Greenaway book prize through working with the CILIP Youth Libraries group and minding authors as famous as Beverley Naidoo, Jacqueline Wilson and J K Rowling. This led to the setting up of the North East Book Awards so that young people in the North East could feel part of a book culture which can seem very London-centric. "We wanted to give our young people a chance to meet authors, try new titles and genres and see their opinions validated. It started with three schools, then expanded across the North East. In 2024 the award will celebrate 25 years," she adds.
She also set up a branch of the School Library Association in the North East which led to national committee membership and an eventual Chair role. And that led to the
setting up of the inaugural School Librarian of the Year Award. "I had the privilege of visiting shortlisted librarians in their schools and seeing their fantastic work first-hand," she says.
Under the last Labour government, national book gifting projects were commissioned and funded by the then Department for Children's Schools and Families and delivered through the School Library Association. This meant the opportunity to compile published book lists, talking to the then Education Minister ("about Captain Underpants amongst other things") and receiving an award for public service from the then Prime Minister in Downing Street. She was also nominated for the Eleanor Farjeon Award for outstanding contribution to the world of children's books.
Providing training nationally for the School Library Association and Literacy Trust on reader development led to being invited on to the Booktrust selection panel for their Bookbuzz programme. "It was hugely rewarding but also a chance to make links with publishers and authors for the benefit of our students in school."
"A School Librarian post perfectly combines education/teaching with librarianship and passion for reading/research. My early experience in public libraries gave a thorough grounding in the practical library management skills needed in my first professional post as a solo worker."

Eileen Armstrong
Specialist leader
School Librarians have a unique role in school – they are neither teaching staff nor support staff and it's often easy to think no-one knows or recognises what you do or values your expertise. I was lucky to be asked by senior management to deliver a workshop on developing a reading for pleasure culture at the annual teaching conference hosted by our school." This led Eileen to become a Specialist Leader of Education for Literacy supporting other schools. "The SLE – Specialist Leader in Education – role was a real confidence boost for librarians like me."
Of course, the day-to-day work isn't just sorting shelves it's working with school students. So, these count down holiday weeks are when Eileen, "updates reading lists to support curriculum topics; creates virtual bookshelves on our e/audiobook platform to attract new readers; makes library displays to tap into current interests and the curriculum, eg, What would Barbie read? New year, new books, BookTok, Mental Health; drafts a year planner of whole school reading promotions and opportunities for 2023-34; plans the budget and renews journal and magazine subscriptions." She'll also request project loans from SLS to support upcoming curriculum topics and visit SLS to stock pick.
All the planning helps give her the time to support students in term time.
"It's the little things that are rewarding," she says. "You never know when being a friendly face, in the same place, can make an impact. School libraries can be that space for students with a friendly adult who is not quite a teacher or pastoral staff," she says citing the example of a Y11 student who came into the library on her own every break and lunch for two years but never really engaged in conversation. "On the last day she asked me to sign her shirt – the only person in school she'd asked. Creating a quiet, safe and inclusive space for all students in the library is important."
"Librarians sometimes get left out of the training delivered in schools to pastoral and mental health teams – we're a massively untapped potential, but not without appropriate training."
Special projects
"Teaching and Learning has changed over the years – it's now so curriculum and exam driven that there's rarely the time or teacher energy to do some of the exciting things where students really learn lots of different skills," reflects Eileen. But authentic project based learning has given her some career highlights including:
Super Science Day where whole year groups focussed on a different title in the Horrible Science series for a week, culminating in a community science family day with shows featuring Nick Arnold and Kjartan Poskitt.
Bookish, a storytelling scheme set up for Y7 students to learn to tell stories using picture books with visits to local feeder primary schools to deliver stories and activity sessions to Y1 classes.
Pop-up bookshop in the local shopping centre where students planned, promoted and ran the business and the money raised was donated to Seven Stories, the national centre for the children's book.
Now Eileen has responsibility for Accelerated Reader so produces reports analysing KS3 reading data. "The AR platform has undergone a major upgrade this summer so I'm getting to grips with the new system, setting up classes for next year and producing training materials for teaching staff," she says.
As a solo librarian Eileen says that SLS makes her role easier.

"SLS offers value for money, advice at the end of an email and they're always there to listen. I don't know how anyone can do without them, I definitely couldn't do my job even half as well. They are ideas people, offering a sounding board, hosting termly staff meetings for school library staff, a book ordering facility, and book loans including class sets, award sets, books for reading groups, project loans to match curriculum topics, artefacts, and much more. Our ebook/audio book platform even comes free as part of our annual subscription.
"There's nothing SLS can't help with (especially last minute). For example:
We want a Harry Potter photo booth for the Y6 welcome evening – no problem, box of props and books sent.
We need extra books about mental health to support a visit from our local wellbeing team – SLS sent boxes for different age groups together with leaflets about public library Reading Well promotions.
We need coffee table books for students of different ages not doing Sports Day next week – they sent three boxes.
We've got 200 Y6s in over the summer studying Space – they sent a box of amazing books for each classroom.
"Schools haven't got money to buy all the resources they'd like, but SLS is such a cost-effective way to maintain new, up-to-date and relevant collections. I had to argue the case for renewing our subscription last summer and show what value for money we get. It's eye-opening," she says. "I don't think we librarians shout enough about what a cost saving and a valuable support they are."