Subject: Science
Topic: Space exploration
Age Group: KS2, plus some picture books for KS1 and Early Years
Synopsis: Here are some ideas for bringing the Black dimension to your Earth and Space topic in primary school. Alongside books on the solar system, universe, the earth and planets, you will also need books on space exploration and key moments in history. The books selected by Gillian Harris will ensure children can celebrate the achievements of men and women from different backgrounds and nationalities, find role models they can identify with and be inspired by their successes when choosing a career of their own.
Gillian Harris, MBE
Tower Hamlets SLS
Librarian's view:
We know plenty about Neil Armstrong and Buzz Aldrin and their historic moon landing in 1966, and there are several children's books giving both an account of that historic journey as well as biographical details of their lives. Yuri Gagarin gained fame for being the first human to travel in space in 1961, but less is known about Valentina Tereshkova who became the first woman in space a mere two years later, or the African-American women engineers and mathematicians who worked at NASA and were instrumental in the Apollo story. Here is a short list of books to add a Black and female dimension to your space exploration project for primary age children.
Hidden figures: the true story of four black women and the space race by Margot Lee Shetterly and Laura Freeman
If you only include one from this list in your resources, this is the one. This book tells of Mary Jackson, NASA's first Black female aerospace engineer, Katherine Johnson and Dorothy Vaughan, mathematicians, and Christine Darden, mathematician, data analyst and engineer, who all worked at NASA in the mid-twentieth century – reaching quite senior positions whilst still experiencing segregation in work practices until the 1964 Civil Rights Act banned it.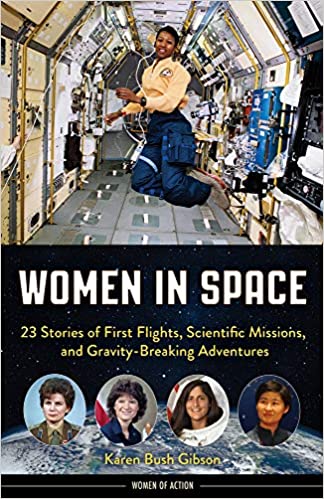 Women in space: 23 stories of first flights, scientific missions, and gravity-breaking adventures
by Karen Bush Gibson
As the sub-title says, plenty here about women of many different nationalities (including French and Korean) who have travelled in space, walked in space, commanded space stations and more.
Mae Among The Stars
by Roda Ahmed
and Stasia Burrington
Mae Jemison became the first black woman astronaut when she served as mission specialist on the Space Shuttle Endeavour in 1992. For younger readers, this book tells Mae's story in picture book format. Some might not like the bit where her teacher tells her to lower her aspirations from flying to the moon to something like nursing… but it is based on a true story.
Blast Off into Space like Mae Jemison by Caroline Moss
and Sinem Erkas
A short biography of Mae's life, including 10 lessons that can be learned from her endeavours, supporting the theme of the book – "that you can do anything if you persevere and apply yourself."
Look Up!
by Nathan Bryon
Another picture book story of Rocket who wants to be an astronaut, "just like Mae Jemison". Includes some brief information about Jemison and facts about meteor showers and comets.
Astrophysics for Young
People in a Hurry
by Neil deGrasse Tyson
and Gregory Mone
Written by a celebrated Black American astrophysicist, this is a whistle-stop tour of the universe for upper KS2 and early secondary years. Author Neil DeGrasse Tyson is featured in the book Super Scientists: 40 inspiring icons by Anne Blanchard.
The Extraordinary Life of Katherine Johnson
by Devika Jina
Telling the story of how this NASA mathematician made such an important contribution to the success of Apollo missions.
Astro Girl
by Ken Wilson-Max
Winner of the STEAM award 2020 for early years picture books, this is story about a girl who wants to be an astronaut and includes at the end some facts about pioneering female astronauts from the 20th century.
First Woman in Space
by Ben Hubbard
A gripping illustrated account of how Valentina Tereshkova became the first woman to journey into space on 16 June 1963. As the post-war world was gripped by the Space Race between the USA and the Soviet Union, the Soviet Union surged ahead by putting the first woman in space in 1963.
Sally Ride and the Shuttle Missions
by Andrew Langley
Sally Ride became the first American woman astronaut as well as the youngest astronaut in 1983 when she joined the team aboard space shuttle Challenger for two flights.