Biog: Chitra Soundar is the author of more than 40 books for children who identifies as a "dreamer, bookworm, writer, author, storyteller" and has a real passion for picture books with stories you want to read aloud.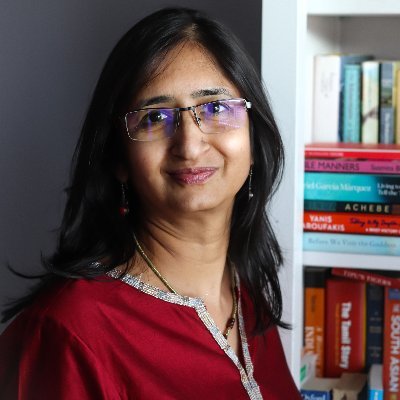 Chitra Soundar
What are you reading?
Word of Mouse by James Patterson & Chris Grabenstein which is so funny and The Sky at our Feet by Nadia Hashimi which is a beautiful book borrowed from the library as an ebook.
Chitra's journey to writer began in her home city of Chennai, the south Indian coastal city off the Bay of Bengal. "I was always a bookish child," says Chitra who speaks Tamil (her mother tongue), English and Hindi. "We had Tamil magazines at home, but books were a lot more expensive. My Dad was a middle manager with a big extended family and lots of mouths to feed, so we couldn't afford luxuries like books."
But that didn't stop Chitra, now 48 (but who jokes her "writing age is seven"), becoming a bookworm. "As a child I read anything I could get my hands on," which often included library books. "Our nearest library was about 10 miles away, so we had to take a couple of buses to get there. My mum would take me every two weeks, and even then, we had to pay at the public library – it's not the same system as UK."
No surprise then that she is a huge fan of libraries and the expert advice only librarians can offer. "A regular book lover is going to go to a type of book they normally like to read or follow a particular writer – like Nancy Drew – then read them all. Or they might recommend books they like to other people. But a librarian makes much more nuanced recommendations. They will know a wider sub-set of writers that are available. You can also get a librarian to point you to a new topic, new book or a completely new genre."
As a child Chitra found an enterprising way to acquire books. "In India when you win a prize at school it is always a book. I still have my first ever own book, a hardback Enid Blyton picture book, that was given to me as a prize in Year 3 when I won the storytelling competition. I keep it very safely in London."
But it was a library book that made her passionate about fiction, read when she was aged 9 or 10. "It was an adventure story set in a nature reserve in north east India, called The Kaziranga Trail by Arup Kumar Dutta. I was fascinated with this book: it's stayed in my mind for ever and when I read it again, five years ago, I still wanted to turn the pages."
Right now, Chitra's WFH life means she is talking on WhatsApp from Chennai, "In the room I grew up in, which is exactly the way I left it 20 years ago. In London I live near Tower Bridge but for the next five months I'm back with my parents to look after them during the Covid-19 pandemic." Pluses include a garden with coconut and mango trees which is scented with jasmine. It's here she has set her latest book, Sonar Sharma: very best big sister. Indeed, lots of her books are inspired by India, Indian folktales and Hindu mythology.
Since 2015 (until the pandemic) Chitra was making about 50-55 visits a year to primary schools across London, and especially in Tower Hamlets. "I find that children from an Asian background are excited in multiple different ways when they see an author that looks like themselves and characters that look like themselves. They might be third generation, but when I say I'm born in India hands go up saying 'My Dad and Mum are from India'. Children can recognise the food, the customs, the names. They'll ask if I can put their name in the book next time, which I do."
She continues: "Children who don't have connections to where the books are set are also fascinated by stories from somewhere else – just like I was fascinated by Enid Blyton. There are always questions about how I grew up and what food I ate (I cook a lot and love idli, an Indian dish of steam-cooked rice and lentil batter).
I visited a school in Hounslow near Heathrow where the Y5 and Y6 Muslim girls said, 'We didn't know we could be authors.' Every time this happens you feel like your job is done and someone has been inspired.
Despite being chatty, Chitra was at first uncomfortable doing KS2 assemblies and reading with the same emotion that goes into her writing. Her solution was brilliant: "I trained as an oral storyteller to feel comfortable on stage. And then I did a clown course so I overcame the fear of shame." Now she's able to take the stage (whether assembly or online) doing all the voices including the growly tiger from her book Tiger Troubles. What's clear is that Chitra is passionate about getting books into people's lives wherever they live. "You are able to discover so many things in libraries without having to spend a penny or travel. That's a gift," she says.
Tiger Troubles
by Chitra Soundar
An energetic animal story, ideal for children practising their reading.
All Sloth Bear wants to do is play with Porcupine but it's nap time in the jungle and all the other animals are sleeping. So she throws a guava at Porcupine's tree to wake him up and SPLAT! THUD! BUMP! Little Tiger gets woken up too! And Little Tiger is rather hungry…
You're Safe With Me
by Chitra Soundar
This heart-warming story is as cosy and comforting as a tender embrace. Crafted in a series of gorgeously ornate pictures, the baby animals of the Indian forest are scared of the cacophony of the storm, but Mama Elephant is always there to protect them. SWISH-SWISH! CRACK-TRACK! FLASH-SNAP! goes the storm. Only Mama Elephant with her words of wisdom can reassure them. "You're safe with me." A modern fable that reads like a folktale, this is a beautifully illustrated tale of motherly love.

Pattan's Pumpkin: An Indian Flood Story
by Chitra Soundar
Pattan has an amazing pumpkin… it grows BIGGER than the goats, BIGGER than the elephants, until it is as TALL as the mountains.
But can Pattan's pumpkin save his family and all the animals when the storm-clouds burst and the waters rise?