Subject: People
Age Group: Early Years to KS1
Synopsis: Recommended picture books about children with disabilities, chosen by Sylvia Cummins.
Sylvia Cummins
Tower Hamlets SLS
Librarian's view:
Finding the right picture book to explain what life is like for children with disabilities or showing children with disabilities positive images of themselves can be hard. Some books mean well but end up suggesting that a having a disability is somehow 'wrong', not different. Some have story lines where the main character has to prove themselves in order to be accepted and be part of the gang. It's a fine line but the best books show a joyful celebration of life, and sometimes the reality of the challenges too. Here's a list of recommended books:
This Beach is Loud!
by Samantha Cotterill
On beach day, the little boy is keen and ready at 4am to set off with his Dad. He's dressed, he's packed and he's talking non-stop. When they get to the beach, everything is too loud and too busy, and the boy is just completely overwhelmed. Dad knows how to keep his boy calm and make everything fun, and when they leave at the end of a fantastic day, the boy can't wait to get back there again. This is a simple story with a perfect blend of graphic images and message.
Use the story to spark discussion on how the boy is feeling, and what it's like for you to be in a situation where you are not comfortable. What can you do to help when someone is feeling unhappy?
My Brother Charlie
by Holly Robinson Peete & Ryan Elizabeth Peete
Twins Callie and Charlie look the same, but Charlie has difficulties that his sister doesn't have, like not being able to make friends, or show his feelings, or stay safe. He can't easily say "I love you" but for Callie this doesn't matter because she loves him very much. She knows he just doesn't have the words but he shows her love when she needs it. A warm-hearted book that shows the closeness of family with a child with autism.
Idea: Talk about what it means to have autism and how important it is to show caring feelings even in difficult situations.
The Five of Us
by Quentin Blake
Five friends are having a day out with Big Eddie in his minibus when disaster strikes, and Eddie falls ill. Each of the friends has a special ability which they need to use in order to get help. It's a simple tale but it shows how everyone has got something special about them which one day might prove really useful.
Idea: Ask the pupils if they can think of something they are particularly proud of, or what do they like doing best of all. If you had a superpower, what would it be?
Just Because
by Rebecca Elliott
This is a lovely story of affection between a brother and sister. Clemmie is in a wheelchair and can't walk or speak or move around much. Toby understands that there are lots of things Clemmie can't do, and it's "just because". What they do share is laughter, fantasy play and acceptance.
Idea: Ask the pupils to finish the sentence, "I love my sister/brother/friend when s/he…" and also to draw a picture of them.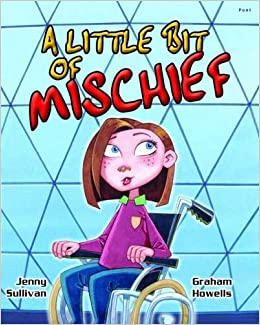 A Little Bit of Mischief
by Jenny Sullivan
Cari is not looking forward to the trip with her school friends to Techniquest, an exciting activity centre full of technological experiences. She thinks they'll be enjoying the fun that she can't access because she is in her wheelchair, and she's annoyed and upset. But once she tries things for herself, she realises there are more possibilities than she imagined. Life is full of potential.
Idea: Talk about how Cari was feeling at the beginning of the day, and how she felt by the end. What do you think changed for her?
Mermaid
by Cerrie Burnell
This is a story about two children meeting on the beach and making friends, and one of them happens to be a wheelchair. What thrills Luka is that Sylvia is an amazing swimmer and helps him to learn to swim, his long-held dream. He is more pleased than ever when she turns up as a new girl in his school, his mermaid friend. This is a sweetly illustrated book which blends feelings with a fantasy element.
Idea: Have a discussion on what Luka was feeling, and what is it that makes a good friend.
Kofi and the Magic Shaker
(a bag book)
This is a multi-sensory story told through objects that can be touched, shaken, listened to, worn, and otherwise experienced. Kofi lives in Africa where the weather is very warm, and a spider comes to see him one day and ends up helping him to cool down in a magical way. What is wonderful about this form of storytelling is that it enables children with learning difficulties to experience narrative. The information is given in a never-changing order and they learn to anticipate using the objects as clues which are sizeable, obvious and uncomplicated. They share the enjoyment with their peers, feeling excited or surprised as the story unfolds, and appreciate the skills of the storyteller while they all have fun together.