Parrots of the Caribbean
---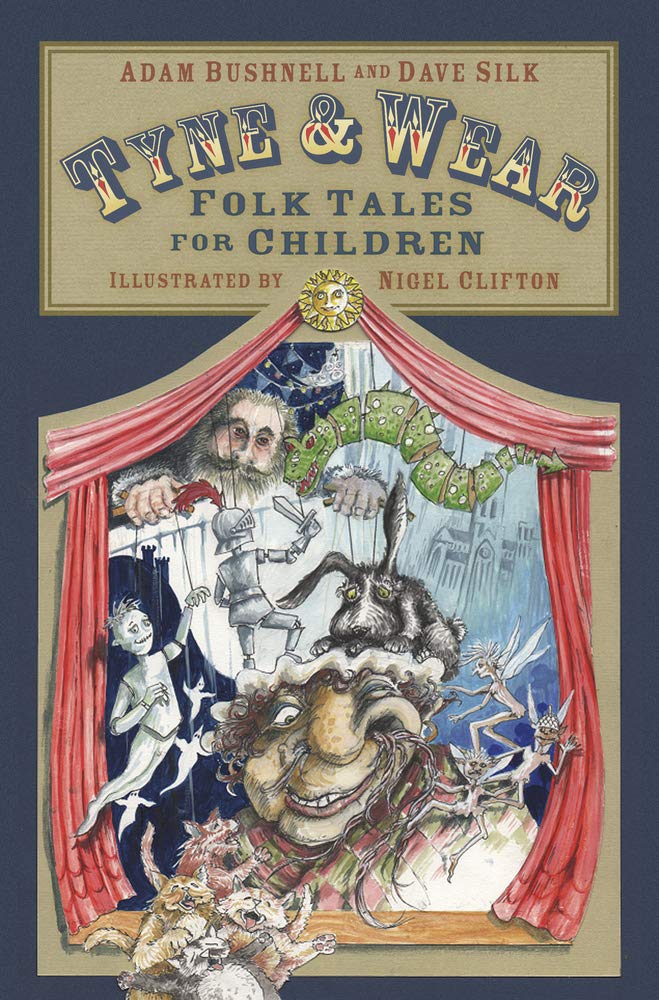 Tyne & Wear Folk Tales for Children
---
Fishes' Claws and Dinosaur Paws
---
How reading bedtime stories to children on a school trip to Michael Morpurgo's Devon farm helped primary teacher Adam Bushnell become a polymath author. Interview Nicola Baird
Durham-based Adam Bushnell has written more than 40 books since he was first encouraged by Michael Morpurgo to have a go. In fact, more than half a dozen are due to be published in 2023 – including six detective stories based upon his love for The Hardy Boys series. While in October, Bloomsbury is publishing his 100 Reflections to be shared with children at the beginning and end of the day "to put them in the right mind set to deal with self-confidence, anxiety and wanting to learn."
Adam, who'll be 48 this year, is a strong believer in the catchy title –one of his first children's fiction books was called Snakes' Legs and Cows' Eggs. Funny titles help attract readers' attention, like Parrots of the Caribbean. It's just possible that he thinks the pun is mightier than the Sword… of Hervor – a short Viking adventure launched in August 2021.
He has also written resources books for teachers, including Descriptosaurus, pointing out that they, "save teachers time and give children stabilisers to help their confidence, essential for every primary school and beyond."
Originally from Hartlepool, Adam did a degree in Philosophy and then trained as a teacher working with early years into upper Key Stage 2.
"I met Michael Morpurgo when I was teaching in an inner city London school in Wandsworth. The children very rarely left the council estate they were on, so the school decided to stay at Michael Morpurgo's farm (as part of Farms for City Children). https://www.michaelmorpurgo.com/farms-for-city-children-2/ He'd published the Butterfly Lion (1996), but he wasn't the great mega star he became. At night I'd read a bedtime story before they went up. Children are great critics, and they are more than happy to tell you! It's quite good having an audience that is brutally honest. Michael listened too and suggested 'that is what you should do for a living'," remembers Adam.
Adam had always written but with an actual author – like Morpurgo – telling him to make this switch, it wasn't long before he'd seen his first book published. "You don't just write to get books published, though every time you write something you get better, but if you get published that's lovely," says Adam sensibly.
Now he mixes teaching and writing with a busy schedule of school visits and lots of time with books – he's just finished rereading Floodland by Marcus Sedgwick and is reading the Marcus Aurelius' Meditations. "Marcus was a Roman who kept a secret diary, like Adrian Mole, and never intended it to be published. When he died his servants, who adored him, had the book published and it is still in circulation today. It's the most inspirational thing on how to be a good human being and remain grounded."
On school visits Adam takes in, "lots of props and resources to bring whatever topic to life. The absolute main thing to become a good writer is to read. For me reading and writing are entirely symbiotic. What I usually say is that reading is breathing in, and writing is like breathing out. When taking in those quality texts and amazing vocabulary a love of reading comes out. And reading teaches children empathy [as they] climb inside the mind of characters. So, to become a good writer you've got to be a reader." It's that sentiment that led to a Newcastle boys school recently invite him to open their library "It was a really fancy affair, but what a lovely thing to do, to open the library," says Adam.
Adam has been a huge fan of libraries since he was a child. "I always went to the library at the weekend with my family. I found it so exciting. If you go to a bookshop with money, you could choose one book, and that was challenging. But in a library you could take out multiple books at once. I worked through The Hardy Boys series; got a different detective novel every single week and I could try new books. I was into myths, legends, detectives and then discovered Gobolino the Witch's Cat and that opened up a whole new genre about animal books. But if you were not into a book, then you could just close the book and take it back," he says – and it's the same for today's library users.
Adam still likes being in libraries, not just researching and writing, but also "running children's events. Working in education I've seen libraries unfortunately closing replaced by ICT suites, and now I'm in the happy position that I see libraries making a comeback."
As a writer he loves to use props to make his books come to life but is still awe struck by a visit to a library in Dubai where the librarian set up an iPad with a sleeping baby in front of a nursery group of children, then said, 'Right don't wake the baby, this is a quiet space."
"When I visit a new school the first place I want to go is the library – it's the breathing, beating heart of the school," says Adam. "You can tell so much from the displays – in libraries I've seen baths (without water), boats, buses and trains set up for reading books," enthuses Adam who is delighted that "schools understand the need for libraries with a shared, communal space in primary schools."
He's also a big fan of seeing libraries used imaginatively by community groups teaching arts and craft.
"I love a public library filled with bright colours and interesting books, with murals on the wall and rugs on floor, it's such a welcoming space. Children want to sit in front of a screen…. but when they walk into a library and they don't have the focal point of a screen, they go to the area that most interests them," he says. And that's also when the magic can happen – the chance to pick out a book that will really capture attention and take the reader through the characters to another world.
For Adam his writing and teaching career was shaped by a trip to that Devon farm. But for many of the primary school children he works with it's exposure to books – and perhaps a library – that makes all the difference.
---
Twitter @authoradam