Subject: Historical fiction
Age Group: KS2, KS3 and KS4
Synopsis: As well as being a good read, part of the job of historical fiction is to accurately inform and educate its readers. Anyone reading usually believes that what they read has a background of truth, even if the characters are fiction, says Nina Simon. Here she looks at the many faults with The Boy in the Striped Pyjamas and suggests some books that better reflect historical facts about children's experience of the Holocaust.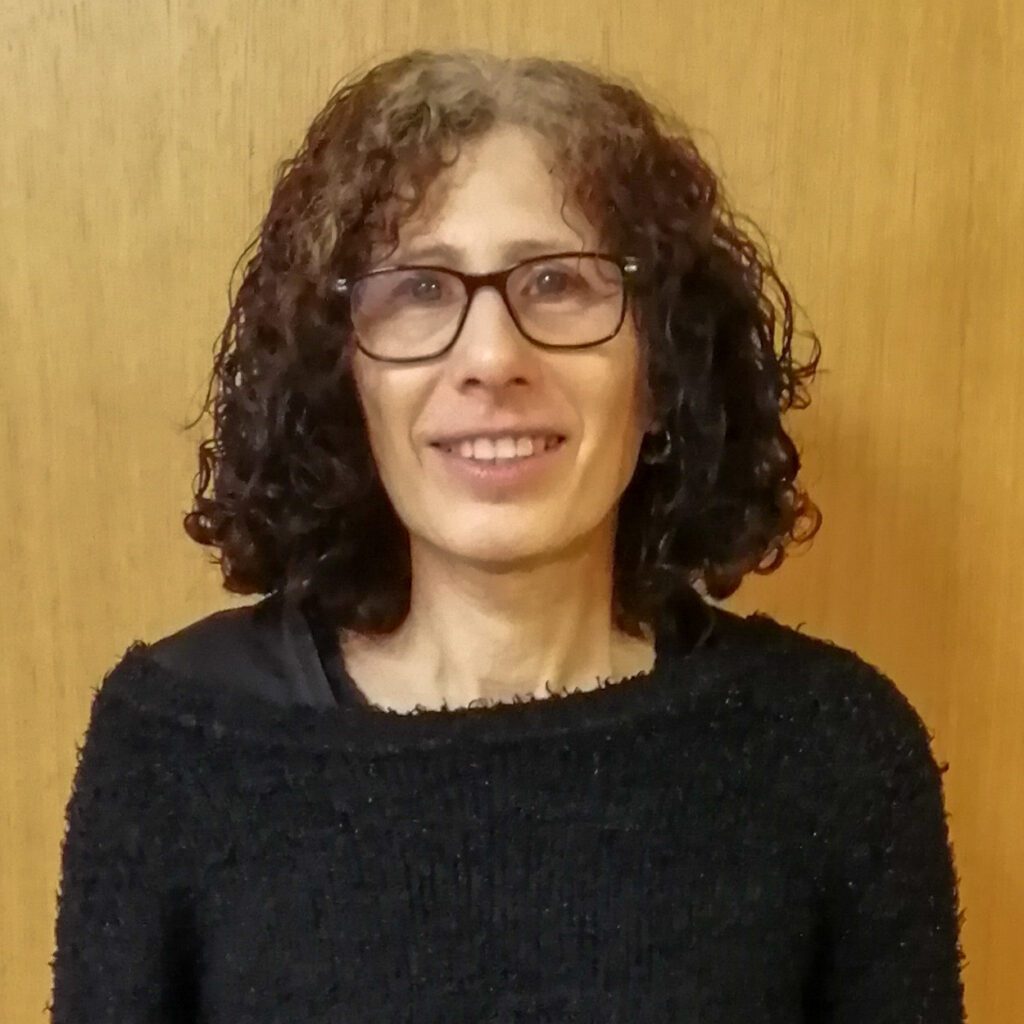 Nina Simon
Redbridge SLS
Librarian's view:
Why beyond The Boy in the Striped Pyjamas? In his review, Rabbi Benjamin Blech wrote: "Note to the reader: There were no 9-year-old Jewish boys in Auschwitz – the Nazis immediately gassed those not old enough to work."
Another concentration camp survivor, Peter Kubicek said: "I am writing as one who was there – I was once myself a boy in striped pyjamas and am a survivor of six German concentration camps. This book is so ignorant of historical facts about concentration camps that it kicks the history of the Holocaust right in the teeth."
John Boyne's premise is that the nine-year old son of the commandant of Auschwitz, bored with his isolated life, takes walks to the fence surrounding this infamous camp and meets there a nine-year old inmate who is on the other side of the fence. The two boys become friends and continue meeting on a daily basis.
Here is some news for Mr Boyne. The 10 foot (3.048m) high barbed wire fence surrounding each camp was electrified. Touch it once and you are fried. There was a no-man's land on each side of the fence; along the inside perimeter of the fence were guard towers; each tower was manned by an armed guard around the clock; each guard was responsible for one segment of the fence within his vision; it was his duty to prevent anyone from approaching the fence, either from the inside, or from the outside; he was under orders to shoot anyone he saw approaching the no-man's-land. Let me add this. A nine-year-old boy arriving in Auschwitz-Birkenau on a cattle train would take only a single walk in this camp: from the train to the gas chamber.
In holocaustlearning.org.uk it states that Bruno, as the son of a senior SS officer, would have been, by law, a member of the Hitler Youth. He would have attended a German school where students regularly swore oaths to Hitler and where antisemitic propaganda infiltrated every part of the curriculum. He wouldn't have been as naïve and unaware as portrayed. Many of the titles below have as their foundation, real accounts of survivors, and all show far better the true horror of the Holocaust for Jewish children.
Once and its Sequels
by Morris Gletzman
KS2-3 Reading Age 10-12
This story follows a young boy, Felix as he escapes from a convent orphanage in the mountains of Nazi occupied Poland in search of his parents.

Each chapter starts with the word "Once" and tells Felix's story from the convent to Warsaw Ghetto and on to the cattle train heading to Auschwitz.

Once I escaped from an orphanage to find Mum and Dad.
Once I saved a girl called Zelda from a burning house.
Once I made a Nazi with toothache laugh.
Waiting for Anya
by Michael Morpurgo
KS2-3 Reading Age 10-12
Jo stumbles on a dangerous secret. Jewish children are being smuggled away from the Nazis, over the border into Spain, close to his mountain village.

Now German soldiers have been stationed at the border. Jo must get word to his friends that the children are trapped. The slightest mistake could cost them their lives.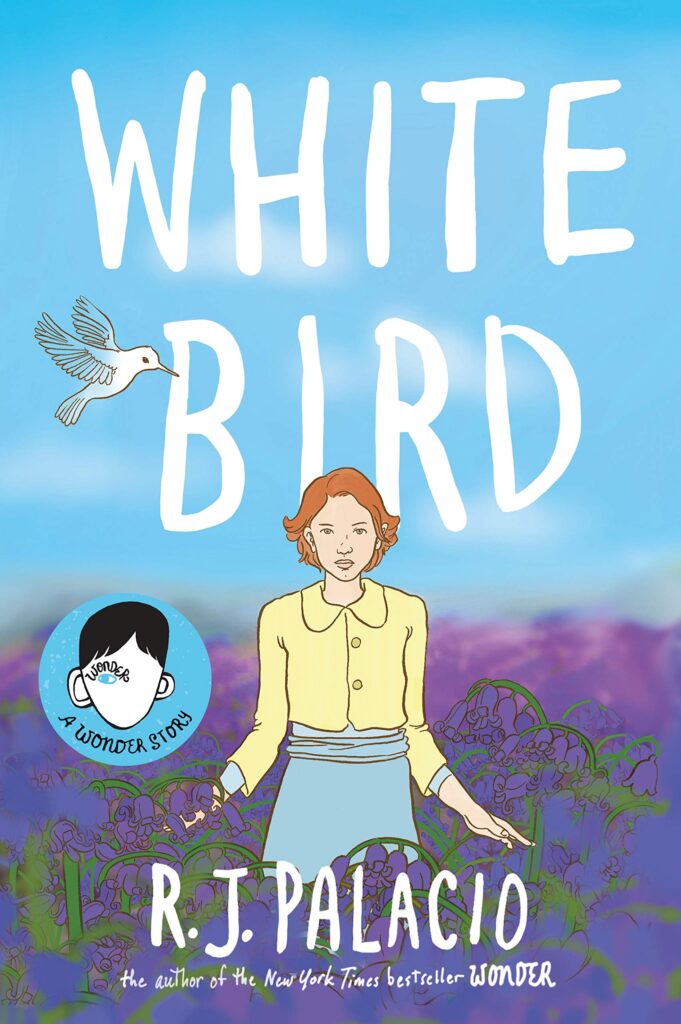 White Bird
by R J Palacio
KS3 Reading Age 10-12
Julian is best-known as Auggie Pullman's classroom bully. White Bird is a graphic novel which reveals a new side to Julian's story, as Julian discovers the moving and powerful tale of his grandmother, who was hidden from the Nazis as a young Jewish girl in occupied France during the Second World War.

An unforgettable, unputdownable story about strength, courage and the power of kindness to change hearts, build bridges, and even save lives.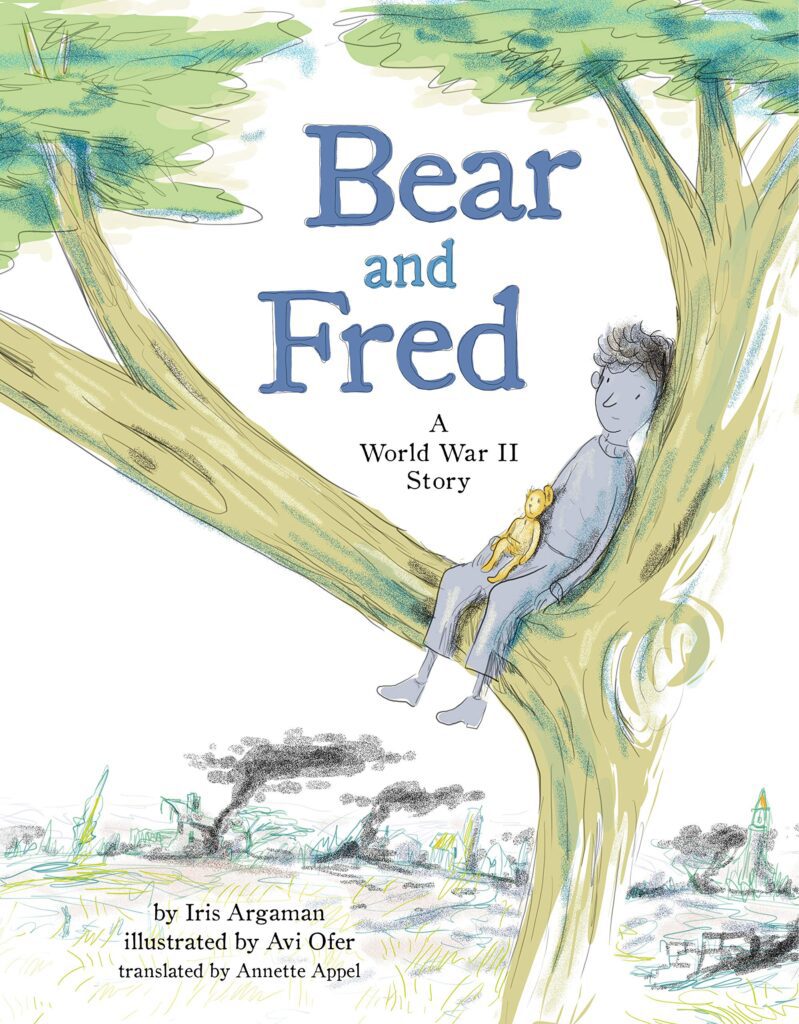 Bear and Fred: A World War II Story by Iris Argaman
KS2 Reading Age 7-10
Based on true events and beautifully illustrated, this is the story of a friendship that will last forever — told by Fred's best friend, his beloved teddy bear.
During World War II, Fred must leave his home and live in hiding, apart from the rest of his family, but he always keeps Bear by his side. Bear knows it's his job to take care of Fred and make sure he doesn't feel alone.
After the war, Fred and his family are reunited and leave Holland for the United States. And still Bear is with him. When Fred grows up, he and Bear part for the first time when Bear is sent to Yad Vashem, the World Holocaust Remembrance Center, in Israel, where this book was first published.
When the World was Ours
by Liz Kessler
KS2-3 Reading Age 10-12
Inspired by a true story, When the World Was Ours is about three young friends, Leo, Elsa, and Max, spending a perfect day together in Vienna, Austria where they live, unaware that around them Europe is descending into a growing darkness and that they will soon be cruelly ripped apart from one another. With their lives taking them across Europe to Germany, England, Prague and Poland, will they ever find their way back to one another? Will they want to? This story is drawn from the author's father's own experience.
Number the Stars
by Lois Lowry
KS2-3 Reading Age 10-12
It is 1943 and for 10-year-old Annemarie Johansen life in Copenhagen is a complicated mix of home and school life, food shortages and the constant presence of Nazi soldiers.

She knows about bravery from the stories of the dragon slaying knights that she reads to her younger sister. But Annemarie's best friend is a Jew.

As the German troops begin their campaign to eradicate all the Jews of Denmark, Annemarie is called upon for courage and a very real-life feat of bravery.
After the War: from Auschwitz to Ambleside
by Tom Palmer
KS2-3 Reading Age 9-13
Summer 1945. The Second World War is finally over and Yossi, Leo and Mordecai are among 300 children who arrive in the English Lake District. Having survived the horrors of the Nazi concentration camps, they've finally reached a place of safety and peace, where they can hopefully begin to recover.
But Yossi is haunted by thoughts of his missing father and disturbed by terrible nightmares. As he waits desperately for news from home, he fears that Mordecai and Leo – the closest thing to family he has left – will move on without him. Will life by the beautiful Lake Windermere be enough to bring hope back into all their lives?
Based on the real events and lives of the Windermere Boys, a group of 300 refugee children who survived the concentration camps of WWII and were relocated to Cumbria. You won't read this without crying.
The Young Survivors
by Debra Barnes
KS4 Reading Age 14+
When Germany invades France in the Second World War, the five Laskowski children lose everything: their home, their Jewish community and most devastatingly their parents who are abducted in the night. There is no safe place left for them to evade the Nazis, but they cling together, never certain when the authorities will come for what is left of them.
Inspired by the poignant, true story of the author's mother, this moving historical novel conveys the hardship, the uncertainty and the impossible choices the Laskowski children were forced to make to survive the horrors of the Holocaust.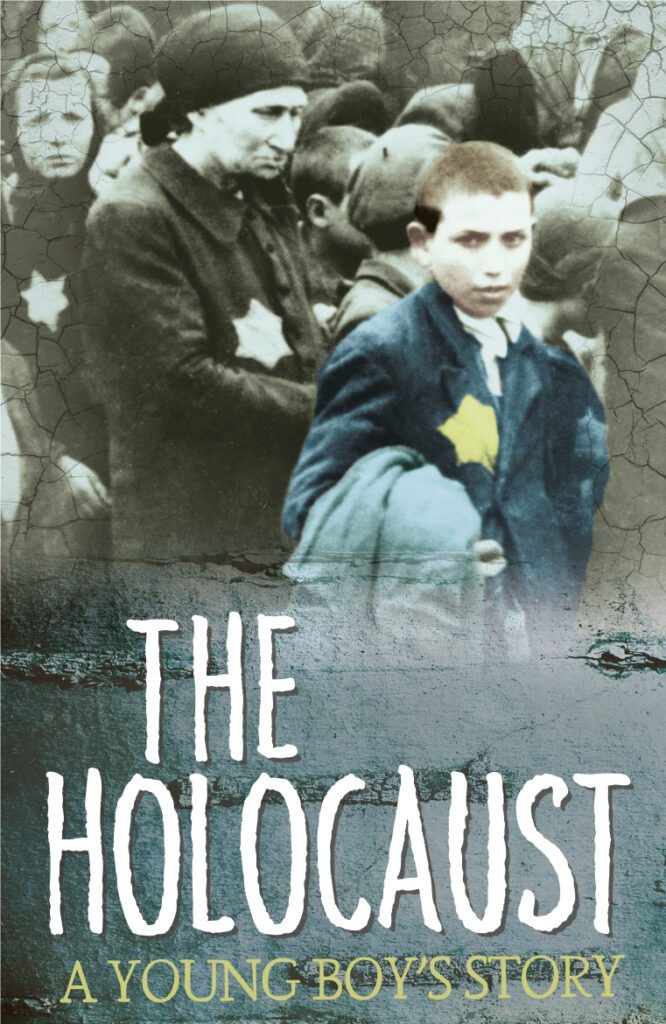 The Holocaust: A Young Boy's Story by Stewart Ross
KS2-3 Reading Age 10-12
Bandi Guttmann is a 14-year-old Hungarian Jew, living in Budapest in 1944. German forces have occupied the city and life for Bandi and his family is about to become unbearable. Set apart from the rest of the Hungarian community, and denied basic human rights, the family's only weapon is their determination to survive. But in the face of mindless hatred, will the Guttmann's strength, love and courage be enough to hold them together?
Based on the memoirs of Andor Guttman, when Germany invaded Budapest, Hungary in 1944.
Anna and the Swallow Man
by Gavriel Saviet
KS3-4 Reading Age 10-12
Krakow, 1939, is no place to grow up. There are a million marching soldiers and a thousand barking dogs. And Anna Lania is just seven-years-old when the Germans take her father and suddenly, she's alone.
Then she meets the Swallow Man. He is a mystery, strange and tall. And like Anna's missing father, he has a gift for languages: Polish, Russian, German, Yiddish, even Bird. When he summons a bright, beautiful swallow down to his hand to stop her from crying, Anna is entranced.
Over the course of their travels together, Anna and the Swallow Man will dodge bombs, tame soldiers, and even, despite their better judgement, make a friend.
But in a world gone mad, everything can prove dangerous.
The Girl in the Blue Coat
by Monica Hesse
KS4 Reading Age 12-14
Amsterdam, 1943. Hanneke spends her days finding and delivering sought-after black-market goods to paying customers, and her nights hiding the true nature of her work from her concerned parents. Every waking moment she's mourning her boyfriend, who was killed on the front line when the Germans invaded. She likes to think of her illegal work as a small act of rebellion.
But one day Hanneke gets a very unusual request. One of her regular customers asks her to find a girl. A girl who has disappeared from the secret room in her house. A Jewish girl…
As she searches for clues Hanneke is drawn into a dangerous web of lies, secrets and mysteries. Can she find the runaway before the Nazis do?
When Hitler Stole Pink Rabbit
by Judith Kerr
KS2-3 Reading Age 10-12
Anna is too busy with schoolwork and tobogganing to listen to the grown-ups talk of Hitler. But one day she and her brother are rushed out of Germany in alarming secrecy, away from everything they know. Their father is wanted by the Nazis – dead or alive.
It is the start of a huge adventure, sometimes very frightening, very often funny and always, always exciting.
The author was born in Berlin and left Germany in 1933 to escape the Nazis; this story is based on her own experiences.